The remodeling of the kitchen is not a simple process. It requires a lot of planning, and it has to be suitable to your budget. Keep in mind that an attractive kitchen can add value to your property. Therefore, it is always a cost-efficient solution.
The key to finding a proper design is to focus on the balance between different parts. For example, choosing a floor that is suitable for cabinets and other elements. The great thing is that many companies are offering a wide range of designs, which will make it easier to find the right one. If you are looking for kitchen cabinets in Hamilton, visit (https://zzonehomes.ca/kitchen-cabinets-hamilton/).
Moreover, you have to be aware that there are some differences between materials. There are those that may look attractive but have lower durability and resistance. That is the main reason why proper research is essential. Here are some tips that will help you make the right decision.
Factors to Consider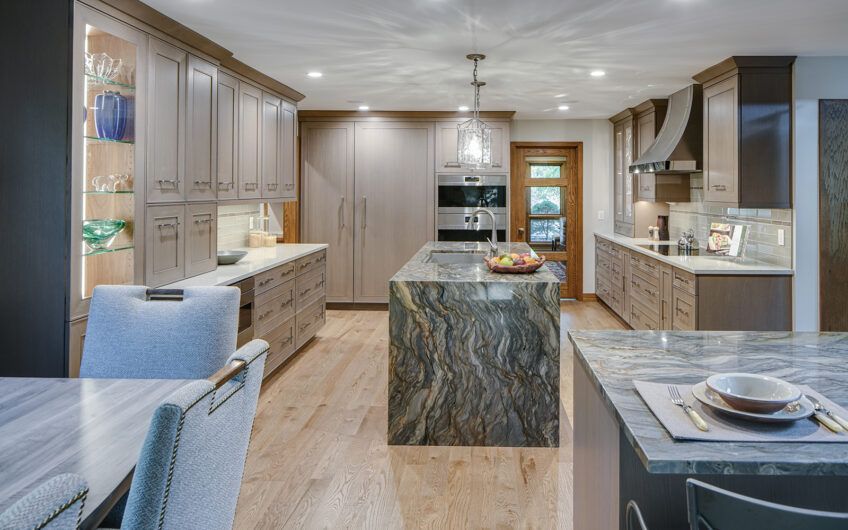 As we already mentioned, the selection of elements that you can find on the market is huge. In that matter, you should focus on the most important factors to find the best combination. The essential ones are the design, function, and price.
Most people will start with the design. When you are selecting a style, focus on all elements in the kitchen to make sure they will all fit in the right way. There are all kinds of styles available, such as minimalistic, modern, and old-fashioned, with a focus on functionality, and more. If you are having trouble with finding the right option, you can always consult with an expert in this area.
When it comes to functionality, the key is to create a balance and make sure that you can fit everything you need in the kitchen while keeping a desired style. That is related to the outline of cabinets and places where you will fit the fridge, stove, dishwashing machine, and various appliances. In that matter, you should consider which devices you want to put in your kitchen before planning the design of it.
The price is one of the key factors for most people. The great thing is that you can always find a more affordable alternative without having to compromise too much. For instance, there are many alternatives for natural stone and wood that can still provide nearly the same features.
Most Popular Options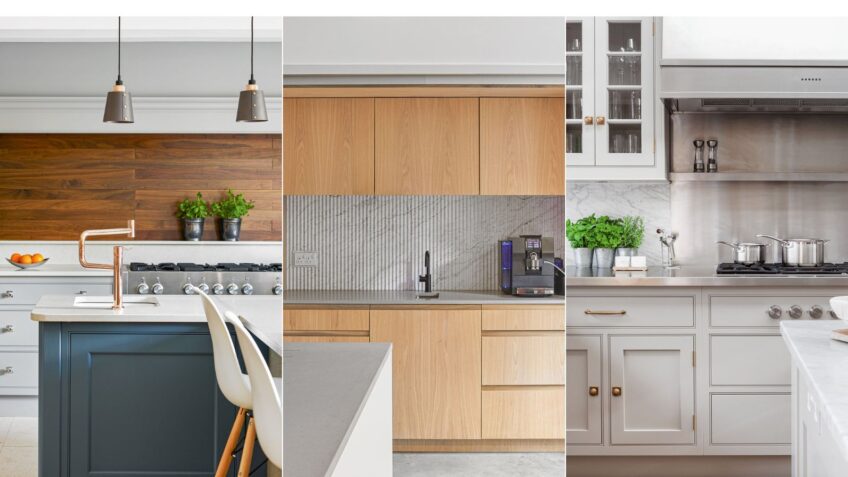 When it comes to the surface area, the great budget-friendly option is Corian. It has a proper resistance, and you can easily maintain it without worrying about scratches and other issues. There are also laminate surfaces available, and the best feature is that you can find all kinds of styles that will create a more luxurious appearance.
On the other hand, if you are interested in high resistance, quality, and durability, the best options are quartz and granite. Even though they are more expensive, these materials can serve you for decades without any problem.
The proper selection of cabinets is also very important. It is always a better choice to invest more and secure a higher quality by choosing solid wood. On the other side, if you are on a tight budget, there are some decent alternatives like HDF, plywood, and melamine.
You should never forget about the floor as well. While laminate is a more affordable choice that can provide a decent design, you have to keep in mind that it is not a good choice for a kitchen. The reason for that is that water can easily affect it and lead to issues. Therefore, tiles are always the right option.
How to Choose the Right Style?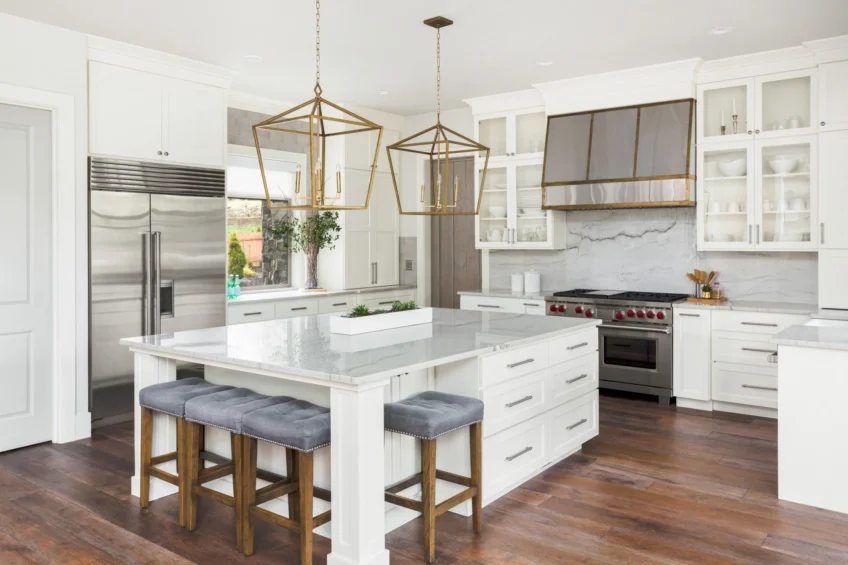 First of all, that is up to your preferences. However, you could make a lot of mistakes without a proper plan. Therefore, you should never rush. If you are looking for a more affordable solution, start with the essentials. You can always buy some appliances later. Surface areas and cabinets are not the elements where you should go for the cheapest models available.
Furthermore, once you find suitable cabinets and other furniture, the next step will become much easier. If you are remodeling, then you already know where you want to put your appliances, which will make the selection of basic elements much easier.
If you own a lot of appliances like coffee machines, blenders, microwaves, air fryers, and more, a proper decision would be to choose a wider surface where you can fit all these devices while not making it too crowded. However, if there is not enough space, there are some alternatives that will still provide a good design. For example, you can buy an additional shelf where you can keep your coffee machine.
Another important thing is to choose the right colors. You can always include some level of contrast, but there are combinations that simply won't fit well together. The easiest way to secure a proper appearance is to choose the same color for all elements like shelves, cabinets, and drawers. The surface area can have a contrast. For example, a black surface when other elements are white, or choosing different notes of brown color.
The best choice for the tiles is to go for the same color of either the cabinets or the surface area. After completing the basic part, you can always play around by adding some other features like plants, additional devices, shelves, and more.
Last Words
The key is to pay attention to all details. Therefore, always create a detailed plan before you start buying the elements. Also, the market is huge, which means that you need to calculate your budget and find a way to fit all essentials into it.
In the end, the best thing for those without much experience and people who simply don't have enough time to deal with the renovation is to choose a company that is making all kinds of kitchen elements. You can always find a perfect combination there without effort.